HEN & CHICKEN STUDIO
Shows in the Studio are run with different seating configurations depending on the show. Solo touring shows tend to be run with theatre-style unreserved row seating as shown in the picture above. Saturday shows are usually a mix of table "cabaret-style" seating and row seating. Table seating is bookable in advance and row seating is unreserved.
COVID PANDEMIC
All shows are currently being run with no restrictions. There is no physical distancing between groups or individuals. Mask wearing is not compulsory but customers are welcome to do so if they so wish.
PRE-SHOW DINING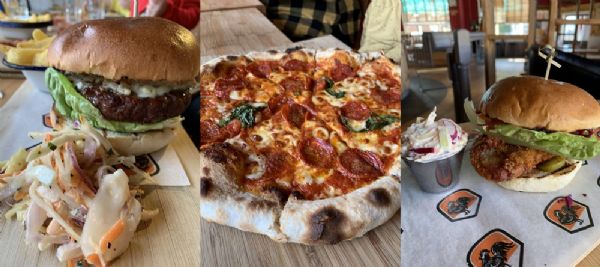 Pre-show dining is available in the bar/restaurant downstairs at the Hen & Chicken - dining does not take place in the Studio.
Once you have decided which show to attend please contact the Hen & Chicken direct to reserve your table for pre-show dining. Please note the start time of the show before booking your table as late arrivals may not be admitted into the Studio if the show has already started.
Click here for the current menu.
Call 0117 966 3143 to book your table for dining.
ACCESS
The Comedy Box at the Hen & Chicken Studio is a first floor venue and therefore only accessible by a flight of stairs. Unfortunately, the Hen & Chicken does not have a lift so the first floor is not wheelchair accessible.
However, if you or anyone in your party can attend our shows but require easy access to the toilets or the exit then we can organise seating for you which is best positioned for both purposes.
Please contact the office on 01275 375056 or email admin@thecomedybox.uk with your requirements and we will endeavour to give you priority treatment by reserving you suitable seating.
PARKING IN SOUTHVILLE/ BEDMINSTER
Parking is available on the streets in the immediate vicinity but you are advised to arrive as early as possible.
We suggest you park up early and have a meal in the main Hen & Chicken bar/ restaurant before coming to the show in the Studio.