The Best In UK Stand Up with Paul Sinha & Co
at the Colston Hall Lantern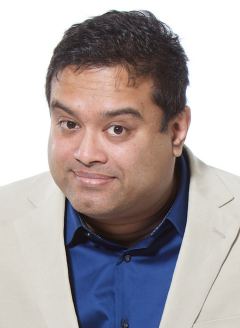 Sat 26 April 8.30pm £12
PAUL SINHA
with JOEL DOMMETT
plus compere CLINT EDWARDS
"A tour de force of humour and insightful observation" BBC Online
"One-liners are delivered with the crisp clarity of cut glass. Highly original." Metro
Smart, articulate and provocative, Paul Sinha is one of the funniest social commentators in the UK today. He is one of those comedians who makes you realise the power of stand-up comedy and the respect it deserves as an artform. Hilariously funny, passionate and articulate stand up of the highest order.
Paul Sinha is the world's only gay, Asian, GP-turned-stand-up-comedian who is perhaps best known as a "chaser" on ITV's primetime quiz show The Chase. A frequent visitor to the world renown Edinburgh Festival, in 2006 he was nominated for live comedy's highest accolade, the Edinburgh Comedy Award.
"He doesn't so much walk the line between controversy and outrage as use it for a skipping rope." Metro
"Universal anecdotes as warmly delivered as you would find anywhere........its a pleasure listening to him" Chortle.co.uk
"His confidence on stage was excellent and his talent for adlibbing and summoning gags off the cuff were very funny" BBC Online
with JOEL DOMMETT
"Manically funny act" - Three Weeks
"Hilarious.. delightful tales" - The Scotsman
Joel Dommett is one of the fastest rising stars on the UK comedy circuit having gained rave reviews for his debut solo Edinburgh show, Neon Hero, in 2011 and second show 'Nunchuck Silver Medallist 2002' in 2012.
He has since worked on the live new Channel 4 aftershow, Live in Chelsea, How to Survive a Disaster Movie (Channel 5) and the hugely successful Impractical Jokers (BBC3).
Click here to book online

To keep up to date on developments at The Comedy Box you would be well advised to join our Mailing List.