Saturday 23 June 8.45pm
Hen & Chicken Studio, Bristol
£11 adv/ £13 on the day online/ £14 on the door
Stand Up
For The Weekend with CAREY MARX
also featuring
ELEANOR TIERNAN
plus compere
CLINT EDWARDS
"Marx's slick delivery lends itself to clever verbal comedy." The Scotsman
Carey Marx is an unapologetic gagsmith. The jokes are short and sharp, often uncomfortably so, as any morality is sacrificed on the altar of quick laughs. And there's no better way of guaranteeing a reaction than storming headlong into decidedly dodgy territory.
There's plenty here for the connoisseur of comedy writing. The lines are efficient, original and potent – and rarely fail to blindside the audience.
And they come at a blistering rate, thanks to a hugely economical delivery. He doesn't go out of the way to befriend an audience, yet there is a subtle charm and intelligence to him, even when the material is blatantly offensive.
"Anecdotally debauched … But if his lines are frequently sick, they're elegantly written, too, and there's a childlike glee to his naughtiness." The Herald
"Hilariously demented" Edinburgh Evening News
Click here to book tickets online
---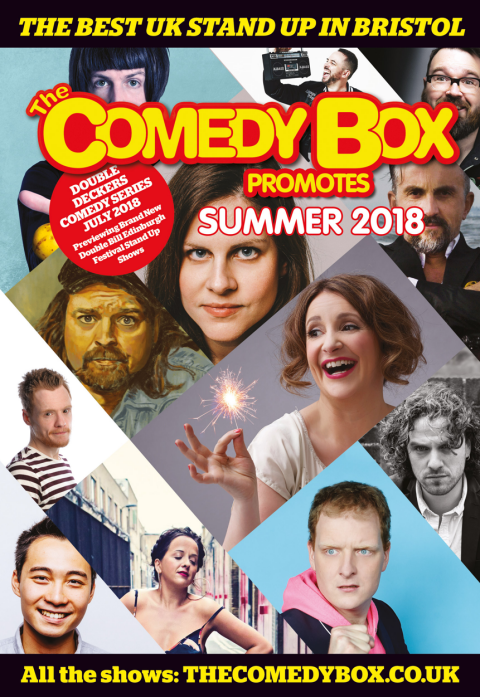 The Comedy Box promotes an eight day programme of brand new stand-up comedy shows from some of the top UK circuit performers from July 18 to 27 at Bristol's newly refurbished Hen & Chicken Studio in Southville. Titled the DOUBLE DECKERS COMEDY SERIES 2018, each show is a double bill preview of Edinburgh Festival Comedy.

Sixteen acts will be warming up their newly honed hour long shows including ABANDOMAN, LUCY PORTER, GLENN WOOL, PAUL SINHA, ALFIE BROWN, TOM WARD & ANDREW LAWRENCE directly before the prestigious Edinburgh Fringe Festival in August - the biggest and most important comedy showcase in the world.

This will be our eleventh consecutive year of producing this series of shows and tickets always sell well. In previous years we have promoted Micky Flanagan, Sarah Millican, Russell Kane, Jon Richardson, John Bishop, Sara Pascoe, Rhod Gilbert and Katherine Ryan before they were famous. Come along and have a look at the best stand-up comedy in the UK and discover a star or two in the making.

Tickets are only £9 per double bill or only £6 using our 3-Shows-For-The-Price-Of-2 Deal.
Click here to view listings