Saturday 8 April 2017
LEE HURST: COMEDY SHOW No.9 (UK Tour)
Redgrave Theatre
8pm (doors 7.15pm)
Redgrave Theatre, Percival Rd, Clifton, Bristol, BS8 3LE
LEE HURST
COMEDY SHOW No.9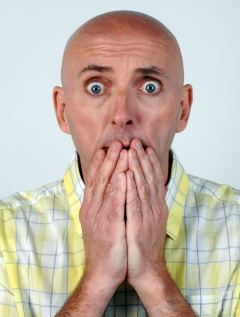 "A naturally
funny guy with a good physical comedy presence
combined with hilarious improvised observations." Bristol Post
Lee Hurst, one of Britain's most-loved comedians, is back with an all-new show. Having earned his stripes over twenty years ago as a circuit comic and one of the best telly warm-up men in the business, Lee was quickly promoted to being a regular face on comedy panel shows including They Think It's All Over (he was a team captain) and Have I Got News For You, which is how he became a household name. Currently, Lee enjoys performing live to audiences all over the country, and has a reputation for being a master of his craft, who can artfully control any crowd. His combined quick wit, sharp observation and easy manner make an evening in Lee's company a fun night out, which is why Lee's fans are a dedicated bunch.
This tour will be Lee's ninth full-length comedy show. It is a show jam-packed with laughs. So it is simply called 'Comedy Show No. 9.'
Lee's style of comedy is funny stories, quality gags and side-splitting observations. There are no gimmicks. There is no over-arching narrative journey or message. This is one man, a mic and his mind. The show is simple. The content is hilarious. The audience turn up. Everyone laughs. Everyone goes home happy. Easy. That's why the show has a no-nonsense title. Lee Hurst is a no-nonsense comedian whose sole purpose is to make audiences laugh.